About Carlson Rezidor Hotel Group
The Carlson Rezidor Hotel Group is one of the world's largest and most dynamic hotel companies. It has a fantastic portfolio of 1,319 hotels in operation and under development, a global footprint covering 81 countries and territories and a powerful set of global brands: Radisson Blu, Radisson, Park Plaza, Park Inn by Radisson, Country Inns & Suites By Carlson and Hotel Missoni.

With our long, successful history in global hospitality, the Carlson Rezidor Hotel Group has a rich expertise across all key segments, all business models, plus a strong and expanding revenue generation capability. Our 80,000 inspiring people collectively deliver system-wide revenues of USD 7 billion. We aspire to be the number one hospitality company to work for and invest with. And we intend to grow the number of hotels in operation by at least 50 percent - reaching more than 1,500 hotels in operation by 2015.

For more information on the Carlson Rezidor Hotel Group, visit www.carlsonrezidor.com
The Carlson Rezidor Hotel Group began in 2012 when two great companies joined forces to leverage their significant synergies and go to market to do business together:

Carlson Hotels, a division of Carlson - a vibrant, family-owned, U.S.-based global hospitality and travel company with a strong portfolio of ambitious brands and ambitious goals, and The Rezidor Hotel Group - one of the world's most dynamic, innovative and fastest growing hotel companies; operating and developing the Carlson brands Radisson Blu and Park Inn by Radisson across Europe, the Middle East and Africa, and Hotel Missoni under a worldwide licence agreement.

Rezidor is a publicly listed company at Stockholm Stock Exchange. The company's legal status and ownership structure remain; Carlson is Rezidor's majority shareholder (50.3%).

Carlson and Rezidor have enjoyed a long, common history of successful growth. And so, the decision to join forces as a strategic partnership and go to market as The Carlson Rezidor Hotel Group was a natural, next step in leveraging the strengths of two great companies to create additional value for all stakeholders.
The Carlson Rezidor Hotel Group is co-led by Trudy Rautio, President & CEO of Carlson, and Wolfgang M. Neumann, President & CEO of the Rezidor Hotel Group. It is governed by a global steering committee, which included the Group's regional leaders and global functions.

Carlson Hotels is a privately-held company, 100% owned by Carlson. Rezidor Hotel Group AB (publ) is 50.03% owned by Carlson. It remains listed on the Stockholm stock exchange.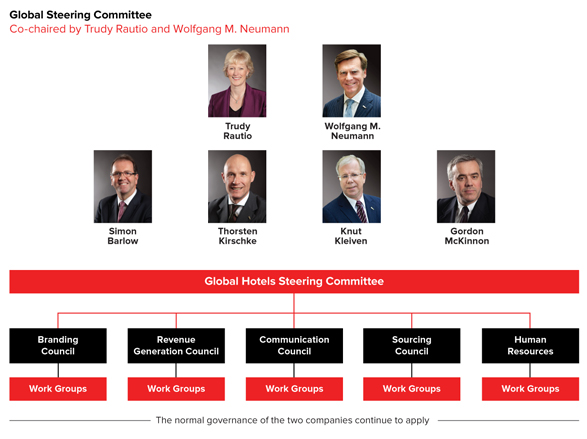 The impressive size of the Carlson Rezidor Hotel Group's worldwide footprint unlocks significant value creation opportunities related to:
The global management and development of its brands
The ambitious development of its revenue generation engines
The leveraging of global purchasing opportunities
People development on a global basis
The goals of the Carlson Rezidor Hotel Group partnership are to:
Generate attractive financial returns for owners
Create value for all shareholders
Be advantageously perceived by business partners around the world as one global hotel company
Offer compelling and consistent value propositions to the guests
Offer global career and development opportunities to the staff
Through a number of concrete revenue generation initiatives, the Carlson Rezidor Hotel Group aims to generate more than MUSD 400 in additional revenue and a RevPAR Index increase of more than nine points by 2015. These initiatives include:
A reinforced global sales team
The growth of the company's brand website
Unique revenue optimisation tools
Partnership projects with travel intermediaries, including Carlson Wagonlit Travel
The rapid growth of Club Carlson, the group's successful loyalty programme
A global steering committee has been established to oversee the value creation areas and the development of the Carlson Rezidor Hotel Group. It is co-chaired by Trudy Rautio, president and chief executive officer of Carlson, and Wolfgang M. Neumann, president and chief executive officer of Rezidor.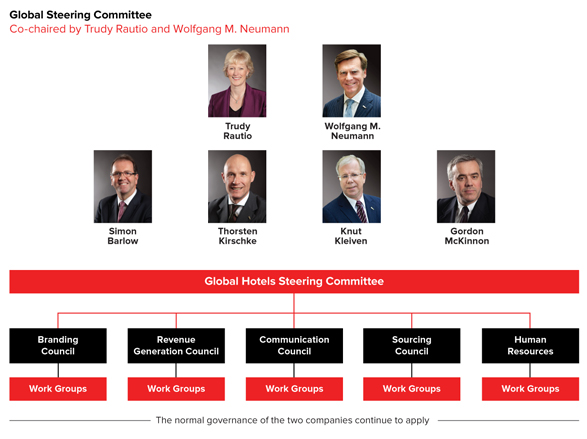 The chosen logo of the Carlson Rezidor Hotel Group symbolises several key elements of the company: the combination of the Carlson name and the Rezidor name highlights the partnering nature of the relationship; and the Carlson symbol on top of the logo represents important values such as relationships, heritage, innovation and service.
The Carlson Rezidor Hotel Group has ambitious goals: to be the number one hotel company to work for and invest with, and to have segment leading, global brands. We intend to grow the company's hotel portfolio by at least 50 percent, reaching at least 1,500 hotels in operation by 2015.
Underpinning these key principles, the group will also maintain a strong focus on the four priority growth initiatives:
Expanding Radisson Blu and Radisson as strong, globally consistent, first class brands
Accelerating the growth of Country Inns & Suites By Carlson in key markets
Growing Park Inn by Radisson as a winning midscale brand across theatres in key countries
Continuing the push in key emerging economies, with added emphasis on midscale
These will be achieved by:
Establishing clear, compelling positioning for each brand
Operationalising the brand promises
Accelerating development resources and commitment
Winning the revenue battle
Building a global team and organization
Rezidor, as a publicly listed company, is leveraging the relationship with its main shareholder, Carlson. The partnership with Carlson can help Rezidor capture revenue generation and purchasing opportunities, in support of its Route 2015 plan. Carlson has invested significantly in the last few years in revenue generation capabilities, especially in the areas of the web, its industry leading loyalty program Club Carlson, global sales capabilities, relationship with key intermediaries (especially Carlson Wagonlit Travel) and revenue optimization tools. These investments can and will be leveraged by Rezidor.
Rezidor's 2015 Strategy